20 Juil. 2020
Artemisia communication campaign in Benin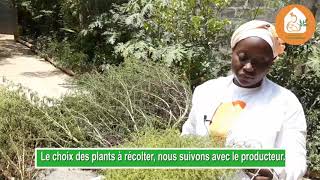 The Maison de l'Artemisia started working in Benin in 2015.
There are currently 6 certified Houses of Artemisia: PARAKOU, BANIGBE, GRAND POPO, DOGBO, ABOMEY CALAVI, BOHICON.
3 Houses of Artemisia are in the process of certification: NATITINGOU, SOKOTINDJI and COTONOU. All of these Houses have now joined forces within a national association, Benin Maison de l'Artemisia.
Its mission is to :
• promote development of the Artemisia sector by bringing together as many players as possible,,
• share knowledge and provide technical back-up to stakeholders in the supply chain through local support,
• continue necessary research, in conjunction and in consultation with the country's health authorities.
The production capacity of these 9 Houses is around 140 tons of Artemisia. This is the equivalent of 4,000,000 curative treatments (5g/day for 7 days).
Consequently, it is now necessary to publicise the network at a national level, promote the points of sale, facilitate orders and strengthen the network. We therefore called upon journalist, video producer and blogger, Ganiath BELLO, to carry out this Artemisia communication campaign in Benin. All aspects of the value chain have been covered: from production to sale of herbal tea as well as processing and awareness raising.
The videos are available on our Youtube channel