05 Oct. 2023
Awareness raising and training in Guinea
Jean Valentin Haba, national manager of Fondacio Guinea, founded the Kankan Artemisia House in 2018. Housed on the Horeb agro-pastoral farm, from the moment it opened, he organised numerous awareness-raising sessions and training courses on growing Artemisia, essential tools for communicating the effectiveness of the plant in the fight against malaria.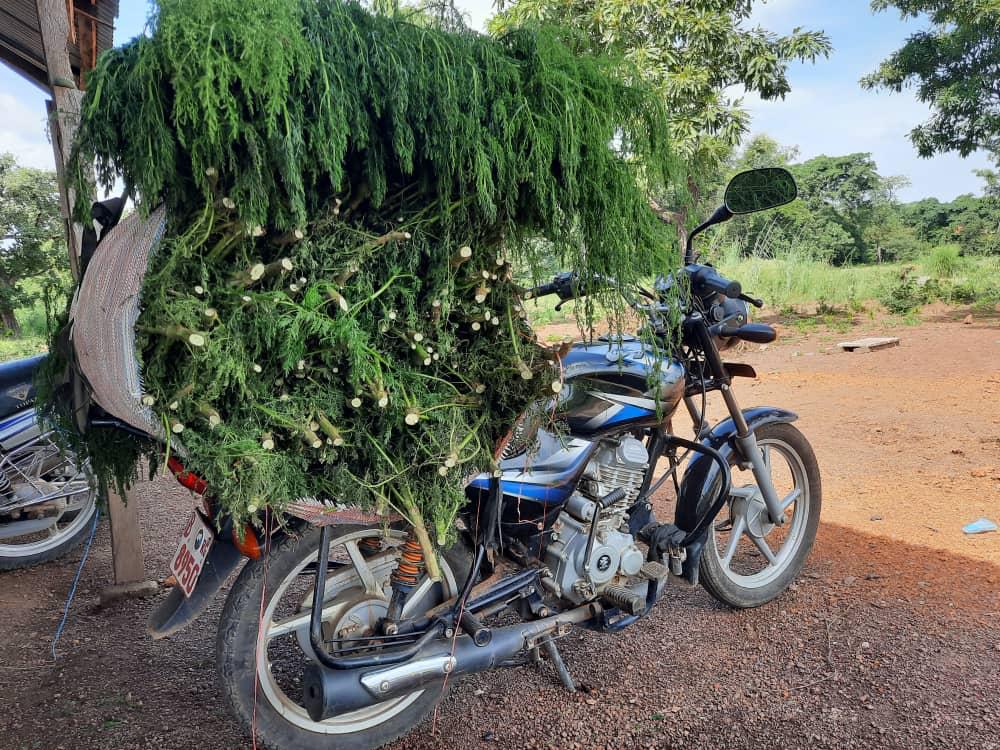 How did you open the Kankan Artemisia House?
I discovered Artemisia in 2016 in Togo and in 2017 I decided to experiment with production of the plant on the Horeb-Guinée agro-pastoral farm. We first set out to determine the ecotype best suited to Guinean soil. We contacted the Maison de l'Artemisia France, which sent us seeds. We found that ecotypes from Malawi (for afra), Senegal and Cameroon (for annua) grew best here.
In 2018, I signed the Charter and opened the Artemisia House in Kankan, the second largest city in the Republic of Guinea. We then started growing Artemisia annua and afra. In 2020, we received approval from the National Health Safety Agency. It validated the fact that our plant contains a high percentage of artemisinin. This molecule is active in conventional ACTs (Artemisinin Combination Therapy). Thanks to this assessment, we were more easily accepted by the health authorities. As a result, a pharmacy in Kankan agreed to sell herbal tea bags as a preventive and curative treatment.
But in September 2020, our development came to a halt. We had to move to a new plot following the end of our 10-year lease with the diocese of Kankan and flooding of our Artemisia field. We're now working on a new 6-hectare plot: 3 hectares protected by a hedge are given over to livestock farming, diversified market gardening with 60% Artemisia, including a 6,000 m2 medicinal garden with a wire fence to prevent animals from trampling the crops; 3 hectares are given over to agroforestry, protected by a firebreak that acts as a belt to prevent the bush fires that are very common in the area. At the moment we only grow annua, but we have plans to develop afra cultivation.
From the outset, you organised a wide range of awareness-raising and training activities. Who are they aimed at?
From 2018 to 2023, we have trained 98 people and carried out 35 awareness campaigns, reaching more than 1,500 people. Two types of profile have shown an interest. On the one hand, those who intend to reproduce the cultivation model and open local Artemisia Houses. Among them, ten have expressed an interest in opening other Artemisia House and three have carried out cultivation trials (Kamsar, Sérédou and N'Zérékoré) but have not continued. On the other hand, there are those who want to learn more about the qualities of this plant to prevent malaria. We have raised awareness in villages, schools, mines and market gardening groups. We have also reached phytotherapists, students and teachers at the University of Kankan. In five years, we have distributed 8,300 free bags of herbal tea.
We have trained trainees from ISAV (Faranah Higher Institute of Agronomy and Veterinary Medicine), Fondacio leaders in Guinea and trainees from ENAE (National School of Agriculture and Livestock). And, of course, raised awareness during World Malaria Days, notably in 2021 on one of our local radio stations. A large proportion of our production is distributed free of charge during these awareness-raising campaigns. The rest is sold. In 2023, for example, we produced 1.5 tonnes of dried Artemisia. In September, we organised a major awareness campaign in N'Zérékoré, going door-to-door and holding educational talks. We donated more than a hundred plants for the creation of community gardens, distributed more than 1,500 treatments and left around a hundred treatments on sale in a local pharmacy that agreed to act as our intermediary.
What feedback have you received from users on the effects of the herbal tea?
Only 10% of people who received bags of herbal tea gave us feedback. Users don't get back to us enough. So this summer we decided to change our strategy. We now give herbal teas to doctors, pharmacists and health centres, but in exchange for feedback on the effects on their patients. Experience has shown that this approach needs to be applied to prescribers rather than recipients in order to get feedback on the impact. We are currently in contact with a rural medical centre in Laine, in the Lola prefecture, which is seeking a partnership to help it combat recurrent cases of malaria and also to create a medicinal garden containing Artemisia.
At this stage of our development, we need to increase the number of partnerships to spread the knowledge and cultivation of Artemisia. The visit of Malo and Manu, two young agricultural engineers who cycled and walked across West Africa, helped to spread the cultivation of the plant on their way. Their arrival at the farm last winter led to new exchanges and testimonials from the beneficiaries, and gave me renewed impetus and energy. What I need to do now is work with other NGOs, get involved with the public sector, ministries and government departments, extend my network and modernise my infrastructure. These are the essential next steps if we are to have an impact and reach as many people as possible in Guinea.