Traditional use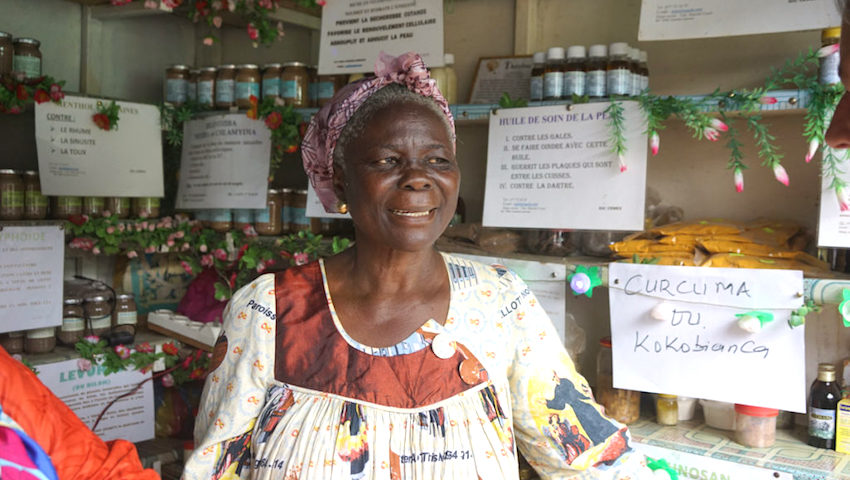 In China
Artemisia annua L originates from China.  Its Chinese name Qing Hao means "green grass".
The Nobel Prize winner for Medicine Youyou Tu explains in her book, "from Artemisia annua L. to artemisinins" that in Traditional Chinese Medicine, Qing Hao is the generic name of a category of medicinal herbs (Mugwort), containing 6 varieties. Each contains different chemical components with different degrees of efficacy in treating malaria. Although there are different varieties of Qing Hao, according to Youyou Tu, only Artemisia annua L. has proven strong anti-malarial activity.
Youyou Tu therefore considers Artemisia annua L. as the definitive medicinal plant to treat malaria.
168 BC : The oldest written record of the medicinal use of Qing Hao comes from a piece of silk which records the "52 ordinances" (Wu Shi Er Bing Fang) and which was unearthed from the tombs of the Han Mawangdui dynasty. The inscription recommends the use of Qing Hao for the treatment of haemorrhoids.
200 AD : First edition of Shen Nong Ben Cao Jing, the founding book of Chinese phytotherapy, the collection of phytotherapy knowledge transmitted orally for centuries (Shou-zhong, 1997). The text states that among other properties, Qing Hao "relieves heat lodged in the joints" which could be interpreted as the treatment of fevers.
Zhang Ji (150-219AD) in his classic text on 'cold damage' (Shang Han Lun) recommends a decoction of Qing Hao to treat fevers with sweating and jaundice (Mitchell et al., 1999).
In 340 AD, "The Manual of Prescriptions for Emergency Treatment" (Zhouhou Beiji Fang), also recommends the use of Qing Hao for fevers. The method of preparation was a cold water extraction: a handful of aerial parts of the plant had to be soaked in two Sheng (about 1 to 2 litres) of water, and the juice drunk whole (Tu, 1999).
Between 960 and 1279 AD, under the Song Dynasty, Qing Hao decoction is described in the "General Medical Collection of Imperial Benevolence" (in Sheng Ji Zong Lu, "General Archives of the Holy Universal Relief").
Between 1271 and 1368 AD, under the Yua Dynasty, Qing Hao pills are described in the book "Dan Xi" (Dan Xi Xin Fa).
Between 1368-1644 AD, under the Ming Dynasty, Qing Hao powder is described in the "Prescriptions for Universal Relief" (Pu Ji Fang).
In 1596, Li Shizhen, under the Ming Dynasty, described the use of Qing Hao to treat paroxysmal malaria fever in Ben Cao Gang Mu (Compendium Materia Medica).
In 1798, Wenbing Tiaobian used Qing Hao mixed with other plants depending on the type of fever (cited in Laughlin et al., 2002).
Leaves and stems of A. annua are also burned in China as a fumigant insecticide to kill mosquitoes (Foster and Chongxi, 1992).
Thus preparations of Qing Hao have been recommended in texts over the last two thousand years : juice from crushed leaves, decoctions including one of 30 g of A. annua per day, tablets, dried leaves in powder form at a dose of 3 g per day for 5 days, and fresh plants at a dose of 3 g per day, Qing Hao wine, Qing Hao juice …(QACRG, 1979; Foster and Chongxi, 1992).
However, Youyou Tu indicates that due to uncertainties related to the difficulty of identifying the correct variety of Artemisia, setting up quality control and methods of administration, there are obstacles to the international acceptance of this Traditional Chinese Medicine.
Youyou Tu, De Artemisia annua L. aux artemisinines, Quintesciences, EDP Sciences
M. Wilcox and al., Artemisia annua as a Traditional Herbal Antimalarial in CRC Press, 2004
E. Hsu, The history of qing hao in the Chinese materia medica, Transactions of the Royal Society of Tropical Medicine and Hygiene (2006) 100, 505—508
In Africa
Artemisia afra Jacq. is found on the plateaus of Eastern Africa, from South Africa to Ethiopia. Compared to Traditional Chinese Medicine, Traditional African Medicine is much less documented due to the cultural and linguistic fragmentation of the vast African continent. Artemisia afra is part of the traditional pharmacopoeia of many ethnic groups and its many names include "Umhlonyane", "Mhlonyane", "Lanyana", "Lengana", "Fivi", "Lusange" and "Lunyaga".  It is used to treat a wide variety of ailments ranging from respiratory tract pathologies (cough, cold, sore throat, flu, asthma) to the treatment of gastrointestinal disorders (dyspepsia, intestinal parasitosis, gastritis), topical use for skin conditions (ringworm, boils, acne, haemorrhoids, herpes, lesions), gynaecological problems (dysmenorrhoea, amenorrhoea, menstrual cramps), fever. Artemisia afra infusion is widely used in the fight against malaria, sometimes in association with Lippia javanica, pulmonary tuberculosis and diabetes. It is also used in inflammatory diseases (rheumatism, gout) and neurological disorders such as epilepsy.
There are several types of Artemisia afra -based preparations, for either internal or external use. 
Infusion

:

Typically, a quarter cup of fresh leaves is added to a cup of boiling water and left to infuse for 10 minutes. The mixture is then filtered and the resulting infusion is sweetened with honey. This preparation is taken orally to relieve most ailments. The hot infusion is also used as a gargle to treat sore throats. The infusion of a double handful of leaves in one litre of water is given as an enema to treat fever.

Decoction

:

(plant boiled for 10 minutes) A remedy for fever which can also be applied as a lotion on glandular or skin inflammations, herpes and

lesions.  It can be used to bathe parts of the body (external auditory canal, haemorrhoids). An infusion of leaves or a root decoction is also used for the treatment of diabetes in the Eastern Cape Province of South Africa.

Inhalation

:

 Respiratory ailments and sore throats are treated by inhaling steam from boiling leaves and sometimes smoke from burning leaves.

A cataplasm

:

or poultice made from leaves and ointments is applied to relieve neuralgia, glandular and skin inflammations (mumps), or ringworm and placed on the abdomen to treat baby colic.

Alcohol extract

:

It is also possible to reduce colic by administering a tincture made of leaves soaked in brandy.
Thomas Brendler , African Herbal Pharmacopeia, 2010, Ed. AAMPS
Some Medicinal Forest Plants, FAO Forestry Paper 67, 1986
N.Q. Liu, et Al., Artemisia afra: A potential flagship for African medicinal plants ? South African Journal of Botany 75 (2009) 185–195 https://doi.org/10.1016/j.sajb.2008.11.001
Patil GV, Dass SK, Chandra R (2011) Artemisia afra and Modern Diseases. J Pharmacogenom Pharmacoproteomics 2:105. doi:10.4172/2153-0645.1000105